Periodontics & Dental Implant Center

Doctors at Periodontics & Dental Implant Center
Specialties

Bioesthetic Dentistry, Cosmetic Dentistry and 8 more

Procedures

Bridges, Dental Restorations, Crowns and 2 more
DocShop Verified & Preferred
---
Patient Reviews
by

Helene Vasily

on
Mark Sutor DDS
I rarely leave reviews for providers, but felt compelled to do so in Dr. Sutor's case. I am writing this review to help others make the best choice if they need dental implants, and believe strongly that the best choice is Dr. Sutor. The implant procedure he performed for me earlier this year was close to miraculous. It involved a difficult extraction (before the implant was implanted), and even during the procedure itself I was comfortable, and felt no pain without having taken any kind of drug or sedative. I did expect significant swelling and pain following the procedure, but the swelling was minor, and the pain mild. The healing process progressed beautifully, and the implant became part of me without any kind of problems whatsoever. Having had an incredibly large amount of dental procedures performed, including several implants, I can say that this was by far the most outstanding experience I have ever had in oral surgery. I urge everyone who needs to undergo a similar treatment to see Dr. Sutor, because I have proof that I can trust his tremendous skills. Last but not least, the staff and technicians at the office are very friendly, attentive, respectful and responsive.
by

Karen Finnigan

on
Indianapolis Office
Dr. Patel is one of the warmest and friendliest professionals in his business. It is a pleasure to have him for a caregiver.
by

Cheryl Graham

on
Indianapolis Office
This office is outstanding!!!!!! From the start all of the support staff where extremely sympathetic and helpful to me as I had an ongoing issue from previous years that had never been resolved and without insurance it looked completely daunting. Dr. Patel was wonderful, his bedside manner and personality along with his obvious expertise are outstanding. Not only did they solve my dental problem but they also created a plan to help me resolve the financial aspect. Alison, Emy and all the Dental assistants along with Dr. Patel were excellent. I highly recommend this center.
by

Anonymous

on
Mark Sutor DDS
Exceptional doctor and very warm and inviting. He listens to all the questions that I have and answers using language that is easy to understand.
Office Locations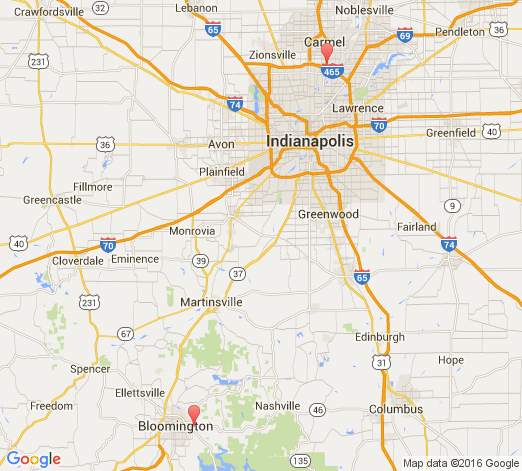 Request a Consultation
We hate spam too! Your information will only be shared with this practice to schedule a consultation.
About Periodontics & Dental Implant Center


Dr. Sutor develops effective treatment plans tailored to the patient's unique needs. He avoids the need for overtreatment or unneeded treatments by accurately diagnosing problems and recommending the most conservative, yet effective, course of treatment.

Patients in need of gum disease treatment or dental implants in Bloomington can entrust their care to Dr. Sutor.

Why Patients Choose Dr. Sutor
Dr. Sutor's honesty, integrity, compassion, and skill have attracted patients throughout southern Indiana. Patients also choose Dr. Sutor for his commitment to:

Safety: Periodontics & Dental Implant Center of Southern Indiana is maintained according to the highest standards, set by the American Dental Association, the Centers for Disease Control, and the Occupational Safety and Health Administration. This means that Dr. Sutor and his staff keep the facility and instruments sterile, avoiding the possibility of cross contamination and infection. 

Continued Training: Dr. Sutor's commitment to continuing education led him to found a dental study club called Hoosiers for Dental Excellence. The organization was created to encourage local dentists to work together to further their education in the field.

Modern Amenities: When patients schedule an appointment at Periodontics & Dental Implant Center of Southern Indiana, they can expect all of the great amenities of a modern dentistry practice. Patients can watch television on flat screens, enjoy healthy snacks or drinks, and use comfy cushions and warm blankets. For those patients that experience dental anxiety, oral conscious sedation is an option. This refers to the use of an oral sedative or anti-anxiety medication that is taken 30 minutes to one hour before the dental appointment. By the time the patient comes into the office, he or she is feeling completely relaxed. Additional medication can be taken as needed during the appointment.

Contact Periodontics & Dental Implant Center of Southern Indiana today to schedule a dental appointment with Dr. Mark Sutor.
Dr. Mark Sutor
Specialties
Cosmetic Dentistry
Family Dentistry
Implant Dentistry
Reconstructive Dentistry
Bioesthetic Dentistry
Periodontics
Oral and Maxillofacial Surgery
General Dentistry
Prosthodontics
Restorative Dentistry
Procedures
Dental Restorations
Bone Grafting
Send a Message
DocShop
Secure Messaging
We hate spam too!
Your information will only be shared with this practice to privately answer your questions.