Celebrities that Look Better with Glasses
updated
For some celebrities, glasses make up part of their image and identity. Superheroes Superman and Wonder Woman used glasses as part of their disguises, allowing them to hide their true identities and go out in public as alter egos Clark Kent and Diana Prince. While glasses may have made Clark Kent look like a clumsy news reporter, many celebrities today wear glasses to accentuate their looks. Some celebrities look even better with glasses, adding a sophisticated and sexier dimension to their personality. Here is a look at celebrities that don't need LASIK surgery, because they look better with glasses.
Johnny Depp
Source
Johnny Depp is counted among the fans of one of New York's oldest optical and eyewear shops, Moscot, founded in 1915. Their frames have steadily worked their way into popular culture over the decades. According to their website, the Lemtosh frame has graced the facial structures of, "Creative, thoughtful, free-spirited intellectuals and artistés — from Buddy Holly to Truman Capote to Johnny Depp."
Chris Pine
Source
Chris Pine really got his career moving when he landed the role of James T. Kirk in the 2009 re-make of Star Trek. This role pushed him out into the public eye, and he hasn't disappointed in the coolness department. He's got the skinny jeans, t-shirt, converse, and Ray-Ban "Wayfarer" combo down perfectly.
Kanye West
Source
Battling through talk show appearances gone awry, unreal Twitter account updates, the G.O.O.D Friday mp3 blitz, the breakups, the make-ups, and the live breakdowns; His new album, My Beautiful Dark Twisted Fantasy, is at the top of many 2010 number one lists. He better keep those shades on, just in case this year gets any brighter.
Ryan Adams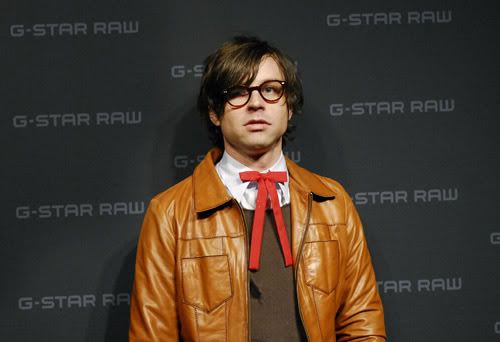 Source
Ryan Adams seems to have quite the hipster influence over his now wife, Mandy Moore. The two are constantly seen out in public rocking "his" and "her" intellectual spectacles.
Mandy Moore
Source
Being married to a well respected musician does have its advantages. Adams talk of possible retirement allowed him to be there for Mandy as a music teacher while she recorded her new album. She's even taken to sporting new glasses, and looking more indie than ever.
Elijah Wood
Source
Elijah Wood has always been keen on what's cool and hip. The Lord Of The Rings star regularly attends fashion shows with his longtime girlfriend Pamela Racine, which is definitely where he got inspiration for his glasses.
Jay Z
Source
Jay-Z is one of the greatest businessmen that the rap game has ever seen, and he is also one of the most stylish. His classic look gives a nod to glasses by Oliver Peoples, and Persol (shown above). If you're into hip-hop, and need a style icon, then Jay-Z is your man.
Leighton Meester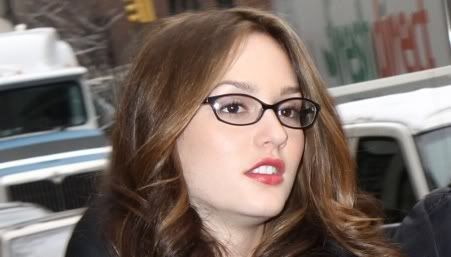 Source
Leighton Meester is a total babe without glasses. But with them, she gets an added air of cuteness, and sophistication. She looks like the hot girl studying in the library, oblivious to how smart and sexy the glasses makes her look. They're also the perfect choice for a casual stroll through New York City.
Metallica
Source
How else do aging rockers keep their cool? By continuing to sport shades that hide their crow's feet. Metallica was responsible for the great albums Ride The Lightening, ...And Justice For All, and will go down in history as the godfathers of metal. Not to mention their continued devotion to cool.
Joaquin Phoenix
Source
This is one of the lovely photos taken when Joaquin Phoenix declared that he was going to retire from film so that he could focus on his rap career, back in October of 2008. Luckily the stunt turned out to be a hoax, as he was starring in a mockumentary directed by Casey Affleck, entitled I'm Still Here. He definitely looked better in shades during his stint as a "rapper".
Terry Richardson
Source
Photographer Terry Richardson is known for being controversial, and graphic with his always-sexual subject matter. While his methods may not be the most conventional, they have helped him gained him success. He has photographed President Obama, among others. Without the glasses, you probably would not recognize this iconic fashion photographer.
Seth Rogen
Source
Seth Rogen started his career back in his native Vancouver, Canada, where he would perform stand-up as a young teenager. He landed a major supporting role in Judd Apatow's directorial debut, The 40-Year-Old Virgin, and that's when his career took off. Part of Rogen's charm comes from his down to earth vibe, and his insanely funny wit. But his ability to relate to his audience is unconquerable, and the glasses are a big part of that.
Megan Fox
Source
Girls fall into different looks or categories. Some are shy and nerdy, while others are wild and unpredictable. Then, there are the girls that pull off each of those looks at the exact same time. It doesn't seem to matter what Megan Fox puts on, this girl defies the boundaries of sexy.
Audrey Hepburn
Source
Audrey Hepburn is one of the most beautiful women to have ever graced the silver screen. Hepburn was known for being a style icon, and her iconic style is constantly emulated by Hollywood's elite of today, and with good reason.
President Obama
Source
President Obama is known for his youthful image and unperturbed style, which has brought a new level of cool to the White House.
Kate Beckinsale
Source
There is something completely irresistible about an older and sophisticated woman. Beckinsale is a natural beauty, and in 2006 she was number 23 in FHM's "100 Sexiest Women in the World". Judging by this photograph, she could have been placed a little higher.
Leona Lewis
Source
Leona Lewis is one of PETA's favorite spokespersons. Lewis won PETA's Sexiest Vegetarian award along with Red Hot Chili Peppers frontman Anthony Kiedis in 2008. This comes as no surprise to us. Lewis is one of those natural beauties where the addition of glasses only magnifies her beauty.
Jonah Hill
Source
Jonah Hill is known for his comedic supporting roles in Judd Apatow directed movies like Knocked Up and Superbad. Hill co-stars in these movies with Seth Rogen, one of his best friends, which can make it hard to be taken seriously at times. Glasses make this comedian look more composed, serious, and respectable, which are never a bad set of descriptive words.
Avril Lavigne
Source
Avril Lavigne was punk's way of getting back at the mainstream. Her style and musical influences gained her the "pop punk princess" nickname from the media, and an "anti-Britney" vibe from her fans. With the addition of glasses, it looks as though Avril is starting to grow up a bit. Maybe a new "intellectual punk princess" title is in the works?
Rachel Bilson
Source
Rachel Bilson is best known for her role as Summer Roberts in the hit TV show, The O.C. and she has a secret about a woman's sex appeal, and it can be defined in one word: confidence. As you can see from the photo above, her sex appeal see's no boundaries in sight.
Want More Information?
Contact a Doctor Near You.