DocShop Verified & Preferred

Doctors at Nevyas Eye Associates
---
Patient Reviews
by

Dennis N DeSimone

on
Anita Nevyas-Wallace, M.D.
This past weeks surgery went well. My second lens was implanted. The procedure has changed my world. When the doc removed the protective cover the day after the second surgery the vision improvement exceeded my expectations. Tears came to my eyes as I walk the office in what appeared as 3 dimensional vision. Clarity of vision was exceptional. The nurses and staff were most accommodating. I felt like one of the family through the entire process. I am truly gratful for such care and talent in this professional setting. Thank you Dr. Wallace. You and your team are the best. Sincerely. Dennis DeSimone.
Office Locations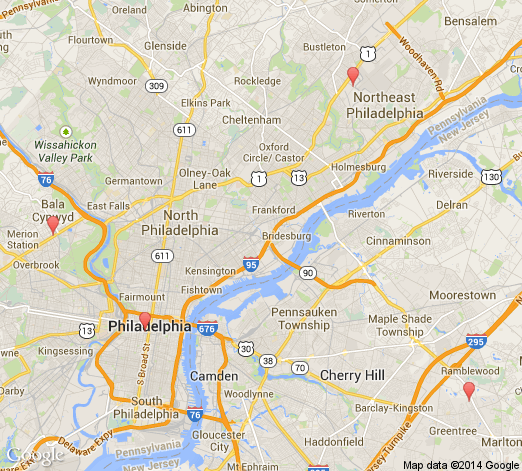 Request a Consultation
We hate spam too! Your information will only be shared with this practice to schedule a consultation.
About Nevyas Eye Associates
Serving the Delaware Valley area in Philadelphia, the highly-skilled LASIK surgeons at Nevyas Eye Associates are proud of their reputation as the "doctor's doctor," which stems from their unique relationship with referring eye care practitioners and their patients. We work closely with our patients' primary eye doctors so that they can play an important role in LASIK or other refractive surgery procedures.

Our facility is dedicated to ophthalmic surgery, and features the latest in vision technology and technique for the most outstanding eye surgery results. We specialize in LASIK, glaucoma surgery, cataract surgery, corneal transplant surgery, and other refractive procedures.
N. Perry Orchard, D.D.S.
Sarah A. Hanson, M.D.
Joann Yaskin Nevyas, M.D.
Edward A. Deglin, M.D.
Mitchell E. Stein, M.D.
Vipin K. Goyal, M.D.
Kenneth E. Morgenstern, M.D.
Joshua M. Greene, M.D.
Procedures
LASIK
Glaucoma Surgery
PRK
Cataract Surgery
Send a Message
DocShop
Secure Messaging
We hate spam too!
Your information will only be shared with this practice to privately answer your questions.