Southwest Eye Care and Laser

Doctors at Southwest Eye Care and Laser
---
Patient Reviews
by

Rick

on
Bakersfield Office
Got my glasses there, great staff, fast service, great price, I would recommend highly. Will be getting my next pair there too.
by

Lisa

on
Bakersfield Office
I like coming here, they have a friendly staff and always pleasant. I'm not going elswhere!
by

Belinda S

on
Keith C. Miller, O.D.
I went in for an eye exam a couple weeks ago the staff there was very nice and pleasant. I didn't have to wait too long like other doctor offices. I had an exam with doctor Miller he was very professional and I can tell he knows what he's doing, my exam was very thorough not like others I've had. I got my prescription and purchased glasses from them. I'm very happy I can see street signs now and I stopped squinting :) I highly recommend Dr. Miller. Thank you, Dr. Miller and Southwest Eye Care!
by

Yvonne

on
Bakersfield Office
New patient,great service from the Dr. Keith Miller and associate Jay. My whole family will be patients here. Although,receptionist never smiled.
Office Locations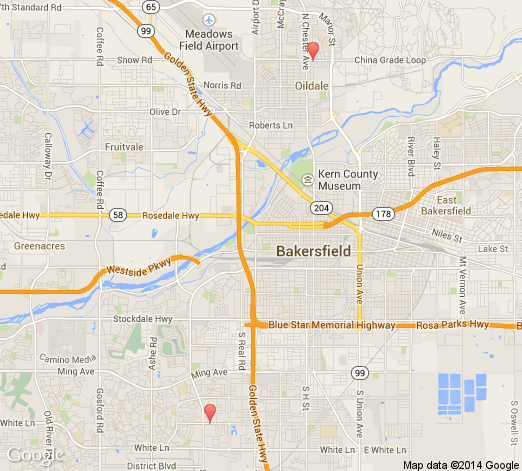 Request a Consultation
We hate spam too! Your information will only be shared with this practice to schedule a consultation.
About Southwest Eye Care and Laser

the line technology and techniques so that you can have
the highest quality eye care and vision correction possible.
Founded and led by Gregory A. Stainer, MD, Southwest Eye
Care and Laser was the first LASIK center in Bakersfield
and remains the most cutting-edge, respected eye care
facility in the area.

Dr. Stainer and our friendly, highly qualified team of
doctors and staff members are passionate about providing
safe, excellent, compassionate care to their patients. Our
comprehensive center offers an array of treatments,
including LASIK vision correction, cataract surgery,
implantable contact lenses, and facial plastic surgery
procedures such as bletharoplasty. We also provide
standard eye care and optical services to promote healthy
eyes and clear vision.

With our finger on the pulse of the opthalmology and
optometry industries and our shared enthusiasm for our
profession, we at Southwest Eye Care strive to give
patients the most satisfying and successful experience
possible. For more information on eye care at Dr. Stainer's
Southwest Eye Care and Laser, please contact one of our
helpful staff members today!
Emily G. Marsh, O.D.
Glenn A. Kaprielian, O.D.
Keith Miller, O.D.
Janae L. Vance, O.D.
Jane Y. Li, O.D.
Conditions Treated
Myopia (Nearsightedness)
Astigmatism
Procedures
LASIK
Implantable Contact Lens (ICL)
PRK
Laser Eye Surgery
Contact Lenses
Glasses
Send a Message
DocShop
Secure Messaging
We hate spam too!
Your information will only be shared with this practice to privately answer your questions.