Rosenfeld Plastic Surgery
DocShop Verified & Preferred

Rosenfeld Plastic Surgery has 1 doctor at 1 office location.
Cosmetic Surgery, Plastic Surgery, 20 procedures.

Doctors at Rosenfeld Plastic Surgery
Specialties

Cosmetic Surgery, Plastic Surgery

Procedures

Arm Lift, Blepharoplasty, Body Sculpting and 17 more
DocShop Verified & Preferred
---
Patient Reviews
by

hannah

on
Nachman Rosenfeld, M.D., P.C.
My name is Hannah Rodriguez and Dr. Rosenfeld has changed my life in such a positive way. His staff was very helpful before and after my tummy tuck. I am so happy with my results and would recommend Dr. Rosenfeld to everyone who is not happy with the way they look. THANK YOU DR. ROSENFELD!
by

valentina rios

on
Nachman Rosenfeld, M.D., P.C.
Decidi hacerme esta cirugia porque no estaba conforme con mi apariencia. Esto me hiso pensar que era necesario para mi y para mejorar mi apariencia. Elegi al doctor rosenfeld porque escuche sobre el en la tele y me parecio muy Bueno, tengo amigas que se han operado con el y todo muy bien. ahora me siento muy bien con mi cuerpo y si alguien quisiera hacerse la misma cirugia que yo le dijiera que se la recomiendo y que es muy Buena.
by

esther

on
Nachman Rosenfeld, M.D., P.C.
Me decidi operarme porque siempre me miraba al espejo y siempre estaba la piel colgando que deformaba mi bestimenta. Lei en el periodico y su carisma professional y se ciente cuando converce la primera vez la experiencia que tenia y otras personas en el consultorio lo bien que quedaron y con dios Adelante. Les recomiendo al doctor y estoy super feliz sin ese feo estomago, vientre, piel que colgaba.
by

ivy67

on
Nachman Rosenfeld, M.D., P.C.
I decided to have surgery because my stomach would not go away after years of exercise. I did my research and decided Dr. Rosenfeld would do my surgery. I was very pleased with his work. I chose Dr. Rosenfeld because he did a tummy tuck on my friend years ago and I loved her results. Most of all she had no complications. Yes I would recommend Dr. Rosenfeld to others. My tummy tuck & Lipo looks excellent. I love Dr. Rosenfeld. I feel great. I love my results. Dr. Rosenfeld and his staff are very professional and friendly. I would highly recommend Dr. Rosenfeld to my family and friends.
by

maria peralta

on
Nachman Rosenfeld, M.D., P.C.
Despues de tener a mis hijos, mis senos se cayeron un poco y desminuyeron el tamaño . no me sentia bien como estava mi autoestima bajo mucho y ai decidi hacerme la cirujia de senos para sentirme con migo misma. Atraves de una amiga que tambien se opero los senos con el doctor y me lo recomendo. De verdad es una experiencia que vale la pena para sentirnos bien con nosotras mismas. Ya lo he recomendado con varias amigas!!
by

yocasta

on
Nachman Rosenfeld, M.D., P.C.
I decided to have surgery with Dr. Rosenfeld because I had very small breast a little saggy and I wasn't happy with my body. My friend recommended him she got hers done with Dr. Rosenfeld as well and I loved how it looked. I feel great! So happy! I will tell anyone to go for it without even thinking about it! I will definitely keep recommending Dr. Rosenfeld.
by

esmeralda

on
New York Office
Le recomiendo el doctor a todo el mundo. El trato, la seguridad, la palabras y satisfaction de las otras personas que conosi en el consultorio me dio la confiansa de hacerme la operacion! Lo hice mas por mi bienestar para sentirme bien con migo misma. Ahora estoy muy feliz mi autoestima esta major que nunca! Mil gracias al Doctor y a dios. Que dios le siga dando mucho conosimiento haciendo feliz a muchas personas. Gracias!
by

hilcauris

on
New York Office
Me quise hacer la cirugia por que despues de haber tenido mis hijas no tenia el mismo cuerpo y mi barriga estaba muy grande y eso me deprimia bastante. Vi un commercial en la tv y llame para una cita y cuando vine me atendieron muy bien todo el personal son muy amable y eso me dio la confianza para hacermela y lo hise. Me siento agradecida con el doctor por que ahora me miro al espejo y me veo muy bonital. Le recomiendo a las personas que se hagan la cirugia de verdad te cambia la vida y tu autoestima sube. GRACIAS DOCTOR ROSENFELD!
by

giana uribe

on
Brooklyn Office
I am very happy with the result of my breast augmentation. My breast healed quickly. The staff was always pleasant and available to answer any questions I had. The doctor did a phenomenal job. I've always wanted to have my breast done but I visited a few doctors and none were able to sell me until I met Dr. Rosenfeld.
by

Carol

on
Nachman Rosenfeld, M.D., P.C.
Dr Rosenfeld did an amazing job on my liposuction. I loved the results and the service is great, everyone is very caring and nice. I would definitely recommend Dr Rosenfeld.
by

Yarelin

on
Nachman Rosenfeld, M.D., P.C.
He wont sugar coat anything. he is straight to the point. Do not expect from him to blow you away with personality because the magic is in his hands. Amazing job on me, my daughter and stepmother. I get complements from my physicians every year on how they are the best ones they've seen. Currently, i have had the implants for 14 years, and there is not one day where i wake up and am not blown away at how amazing they still look!
Office Locations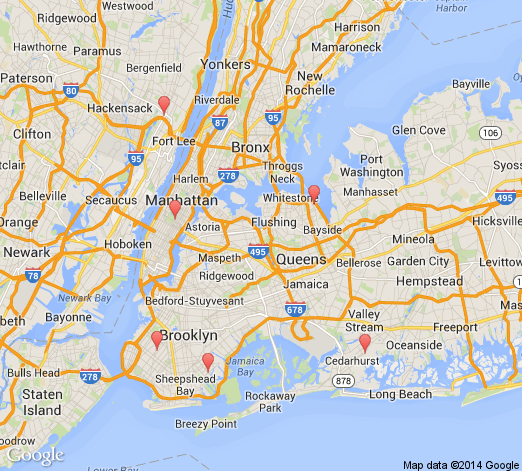 About Rosenfeld Plastic Surgery
Dr. Nachman Rosenfeld is a Board Certified Plastic and Reconstructive Surgeon with over 27 years of experience in cosmetic plastic surgery. Dr. Rosenfeld is a professor in his field, periodically teaching plastic surgery residents at Albert Einstein College of Medicine.

Dr. Rosenfeld is the medical director of the Metropolitan Plastic Surgery Center. The comfort and safety of his patients are his first priority. Dr. Rosenfeld combines state-of-the-art cosmetic surgery with up-to-date techniques in a certified out-patient facility at fees that are affordable.
Nachman Rosenfeld, M.D., P.C.
Procedures
Arm Lift
Blepharoplasty
Body Sculpting
Breast Augmentation
Breast Enhancement
Breast Enlargement
Breast Implants
Breast Lift
Cheek Augmentation
Cheek Lift
Dermal Fillers
Eyelid Surgery (Blepharoplasty)
Face Lift
Facial Surgery
Liposuction
Mommy Makeover
Neck Lift (Platysmaplasty)
Rhinoplasty
Smart Lipo
Tummy Tuck (Abdominoplasty)