Doctors at Dental Solutions
Specialties

Cosmetic Dentistry, Family Dentistry and 6 more

Conditions Treated

Bruxism, Cavities, Gum Disease, Oral Cancer and 4 more

Procedures

TMJ (Jaw Joint Treatment) and 27 more
Specialties

Cosmetic Dentistry, Family Dentistry and 6 more

Conditions Treated

Bruxism, Cavities, Gum Disease, Oral Cancer and 4 more

Procedures

TMJ (Jaw Joint Treatment) and 25 more
DocShop Verified & Preferred
---
Patient Reviews
by

Jen Kinsalan

on
William B. Stofer, DDS
Fantastic! I was scared to come see a dentist because it's been many years. You made me feel right at home. Thank you!
by

Linda Henschen

on
Warsaw Office
I'm a very fearful patient who has recently had two crowns with extensive work. Dental Assistant Kathy was so patient and kind through out both procedures, offering suggestions to help soothe my nervousness...actually held my hand during drilling. Kathy is absolutely the best. Dr. Stofer is also very patient with a wonderful sense of humor. Really best experience possible during a dental procedure...thanks to the whole Dental Solutions staff. Linda H.
by

Anonymous

on
Warsaw Office
Thank you for making my trip to the dentist so easy. I have never been to a dentist who treats you like family! We will definitely refer our family and friends to Dr. Stofer!
by

Anonymous

on
Warsaw Office
Fantastic work! Thank you.
Office Locations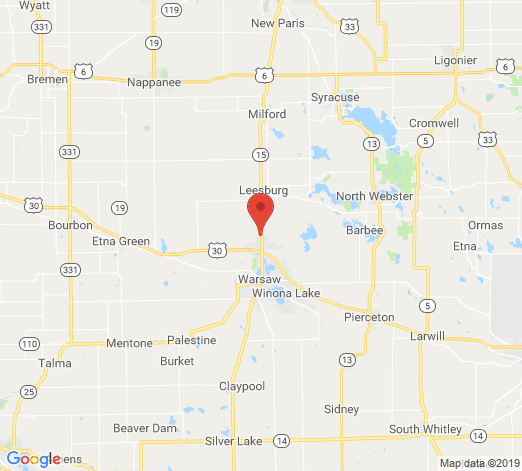 About Dental Solutions
The Warsaw dentists at Dental Solutions offer restorative & cosmetic dentistry services like porcelain veneers, teeth whitening, Invisalign, smile makeovers, dental implants, white fillings, as well as family dentistry & more! At Dental Solutions, we believe that everyone deserves to have a happy, healthy smile. To learn how we can improve your oral health or to learn more about our available services, contact a dentist at our Warsaw office today. We look forward to meeting with you!
William B. Stofer, DDS
Dental Solutions | Warsaw, IN
Dental Solutions | Warsaw, IN
Jason D. Hemphill, DDS of Dental Solutions | Warsaw, IN
Specialties
Cosmetic Dentistry
Family Dentistry
Implant Dentistry
Preventative Dentistry
General Dentistry
Sedation Dentistry
Pediatric Dentistry
Restorative Dentistry
Conditions Treated
Bruxism
Cavities
Gum Disease
Oral Cancer
Periodontal (Gum) Disease
Teeth Grinding (Bruxism)
Procedures
Root Planing and Scaling
Oral Sedation
Oral Surgery
Tooth Replacement
Dental Bridges
Dental Exams
Oral Cancer Screening
Full Mouth Reconstruction
Oral Exams and Cleanings
Root Form Implants
Dental Cleaning
IV Sedation
Teeth Whitening
Invisalign
Porcelain Veneers
Oral Conscious Sedation
Conscious Sedation Dentistry
Dental Crowns
Smile Makeover
Nitrous Oxide
Teeth Cleaning
Oral Hygiene
Dental Restorations
Oral Reconstruction
Root Canal
Tooth Reshaping
TMJ (Jaw Joint Treatment)
Dental Implants
CEREC
Dental Bonding
Send a Message
DocShop
Secure Messaging
We hate spam too!
Your information will only be shared with this practice to privately answer your questions.