---
Patient Reviews
by

Diane H.

on
Brilliant doc yet very humble. Well respected by his peers at Wills Eye. He will give you all the time you need and always gives a very detailed exam. I highly recommend.
by

Ralph T.

on
It is reassuring to know that doctors like Dr Clark are around. After being told that my cataracts were "beyond ripe" and needed immediate care with surgery, I was fortunate to see Dr Clark for another opinion. After a most extensive exam he reassured me that the surgery was totally optional. Since I was seeing well,he recommended waiting until my vision worsened.
by

Doris w.

on
So it took me a while to track down this doc About 1 year ago I was stuck on the Pa turnpike with a flat tire raining cold scared and not sure what to do A man in scrubs pulled up say hello and told me he could help He fixed my tire gave me his cell and told me he was a phone call away He told me he fixed many a tire in his youth I was never to truly able to say thank you as I was totally bewildered Thank you Dr Francis Clark!!! I don't know anything about his practice
by

Mike R

on
I am indebted to Healthgrade and Vitals for directing me to Dr Clarke. 1 year ago my right eye had cataract surgery with a special ordered lens that cost several thousand dollars. My vision is worse than before surgery. I trusted my longstanding surgeon but he basically told me to "live with it". Dr Clarke did my second eye and was able to clear up the vision in the first eye. I am forever grateful.
by

Ronald P.

on
I was examined by this very compassionate dedicated doctor at 1 am at Abington Hospital for loss of vision in my left eye. His professionalism was matched by his uncanny kindness
by

Fred T.

on
His clinical skills were remarkable, his bedside manner was terrific, his technology was cutting edge. He helped me with an eye problem that has plagued me for years.
by

Theresa Bailey

on
Stop Before anyone has cataract surgery visit this office and doctor. I am totally free of glasses without spending xtra money for vague uncovered services (previous eye doctor) All he cares about is your best outcome and is dedicated to the best technology Amazing doctor
by

Dolores Gordon

on
Thankful to have found this doctor. He was the only doctor willing to see me over the holiday weekend for eye pain. Very caring and compassionate.
by

Doc Clark Patient

on
Doc Clark is the best. My eye vision after he performed laser cataract removal on both of my eyes is the most awesome of experiences. His skill is matched by his kind qualities.
by

William Moffett

on
Dr. Clark is a true miracle worker. I thought I was destined for a life of progressively worsening vision when Dr. Clark recommended IOD's to correct my vision problems. He implanted them and I was instantly able to see with clarity I hadn't had since I was a teenager. He gave me an ability that money cannot buy. I will always be grateful for his skill and care in restoring a vital function in my life.
by

William

on
My recent experience with Wills Eye and their surgeon Dr Clark was life transforming. The entire staff was caring and Clark was fantastic.
by

R.S.

on
New to this practice and doctor. Dr clark found a melanom in my eye on my first exam with him and I just saw an eye doctor 2 months ago. Clark saved my eye and life according to specialist at Wills. Clark exam was very lengthy and thorough.
by

Ellen Tyler

on
My husband was a trauma patient at abington hospital with brain damage and bleeding behind his eye. A very caring, confident eye doctor came out to examine him in the late evening and was very kind, professinal, and cnfident. He performed an emergency, quick procedure on him and I am told , saved his vision. Many thanks to Dr Clark for your professional care. The only caring doctor we dealt with through this horrible event.
by

Thomas Camp

on
After doing 6 months of research and visiting 5 surgical opinions I was sure I selected the absolute best, most cutting edge surgeon for my cataract surgery. I was assured after the initial evaluation when he spent a great amount of time doing the most detailed thorough exam ever. His dedication to perfection was seen through the care of the entire staff. Incredibly, he is the sole surgeon I saw who doesn't charge extra money for advanced cataract surgery. Worth getting a second opinion!
by

Donna

on
dr. Clark sees me from a very bad situation with my eyes another surgeon performed laser cataract surgery with insertion of a crystal lens my vision is horrible and I suffer from debilitating Glare and light sensitivity In addition he sent charge me thousands of dollars out-of-pocket Dr. Clark did my second eye without any extra charges and miraculously all of my symptoms have disappeared This doctor is very dedicated to perfection
by

Jane T.

on
for 10 years I have been very frusrted by my poor vision. i saw my new eye doctor who immediately found the cause, prescrbed new eye drops; within 48 hrs i was seeing great. dr clark is the best.
by

Christopher Sinsabaugh

on
i am not totally sure what is going on . paid thousands of dollars to have " the premium laser technology " for cataract surgery for my 1st eye . i am misserable . went to dr clark for 2nd eye i see all for both reading & reading . still confused why dr clark did not charge me for this gift . this doctor is the most ethical docor ever! !!
by

Victoria K. - Ambler, pa.

on
The entire staff in the office and surgery center are the friendliest, courteous, and most professional people you could ask for from a doctor's office. The doctor I see is Dr. Clark and I can't say enough positive attributes about him. Wonderful, kind doctor.
by

Sharlene mohammad

on
I first met Dr. Clark when my usual optomologist was unable to be reached and I was in great pain. I was blown away by the time spent and the thoroughness of Dr. Clark. I wasn't enen his patient. Needless to say, I am now a patient with Clark!
by

Betty M.

on
The most levelheaded doctor and caring staff! Dr. Clark did laser cataract surgery and results were life changing... neighbors, brother and husband followd behind in turn. All experiences were exceptional and I strongly endorse Dr. C. to all!
by

Donna R. - Abington, Pa.

on
DR. Clark and his staff surpass excellence in their interaction with their patients. They shine when it comes to comfort, care and meeting your specific needs. I would wish Dr Clark to be my health care provider for all my medical needs. I receive letters and timely calls from the doctor at all times showing concern for my health...first time in 70 years of seeing doctors!
by

Maureen serrano

on
One of the best, most genuine Doctor's that I ever had! Very professional, he even returned a phone call to me late in the evening and on weekends, at all hours! I highly recommend!
by

Donna D.

on
Dr. Clark is the most kind and compassionate doctor I have yet to meet. His office is well run, cutting edge, and professional. One is treated like family throughout the visist. I have never had to wait more than 15 minutes for an appointment. Even though he is abviously busy and in demand, one is treated with respect, not a number. I would Very Highly recommend him to everyone seeking a knowledgeable ophthalmologist! Donna D. North Wales, Pa.
by

Tom C.

on
Excellent physician. Saw me in the middle of the night @ Doylestown Hospital for major eye pain. Lasered my eye for acute attack of glaucoma. I had almost immediate relief of pain, and return to normal vision. Great, gentle bedside manner.
by

Tom L.

on
Dr. Peet and Clark are outstanding physician. It is very rare to find physicians as caring and sensitive to their patient's needs and anxieties with their levels of education, training and prestige. They both are very approachable and HUMBLE! I recommend them wholeheartedly to relatives and friends who want the best opthalmologists. I have the utmost confidence in their diagnosis and treatment approach. Tom L. Tom L. -Doylestown, Pa.
by

Raymond Levayn

on
I miss the helpful lady upon entrance... I call her "the coffee lady"...please come back! I give 4 star reviews only because the wait... and the front desk. Than I get back to see the doctor...Clark, Beach, Barough, Sponberg, peet. I accept the wait...They are the best in eye care in Phila.!!!!! I am thankful I found this practice!!!
by

Angelica Licata

on
Dr Peet had an excellent, uniche, bedside manner. He was very knowledgable, thorough and curtious. The best in my 78 years of seeing eye doctors. His entire office staff was pleasant. I had a great experience and would recommend him. i was blow away away by his technology and bedside mannner,
by

Anonymous

on
OK...what is wrong with this? First eye laser cataract surgery, paid $3000, vision crap both at distance and reading. Dr. Greedy. 2nd eye. Laser cataract surgery with Dr Clark, paid zero, Beautiful vision at distance, and able to see everything up close. Dr Greedy...nasty!!! Dr Clark...very kind!! Thank you Abington Hospital for recommending Dr Clark Very Happy patient. I need to remain anonymous!
by

Betsy K. - New Hope, Pa.

on
Dr. Clak is the consummate professional in every definition of the word... Caring, compassionate and competent. Upon meeting him, can't imagine trusting anyone else. The equipment used is state of the art; I had tests never done before. The staff are all above and beyond in courtesy, customer service and quality, compassionate care. Dr. Clark has assembled quite an impressive team that one needs to experience. I am very happy with the results and the follow up after the procedure. I give this this practice the highest recommendation! Betsy K.
by

Jacob T. - Abington Pa.

on
Best eye doctor in the area, as I have seen many in last 70 years. Best staff. Totally patient focused!! A rare finding these days in medicine. Jacob T.
by

Betty O.

on
Receptionists were welcoming and eager to help. Nurses were very kind and thorough. Doctor Clark was extremely professional, asked very detailed and directed questions. He encouraged me to ask all the questions that I desired. I left the visit feeling I had the most thorough of exams ever. I found myself a new eye doctor!!
by

Nina addison

on
This ophthalmologist saved my life. The burred vision was from a blood clot in the neck. He was the only doctor that listened and uncovered the cause . I knew it was not dry eyes! Thank God to the Family Doc who referred me to Dr Clark.
by

Bryan roberts

on
Dr Clarke is in a class alone! He has a very friendly bedside manner and was very proficient and very thorough in checking the status of my eyes...the most advanced technology in 76 years of eye exams... i can compare from previous experiences. He uses advanced lenses to exam my eye others never used...3 vs 1. I was extremely pleased with the results of my surgery and my follow up appointments. He has my respect and gratitude and I would recommend him and his staff to anyone dealing with eye issues. I feel lucky that Montgomry County has such talented and caring doctor and I am honored to be one of his patients.
by

Elizabeth Z.

on
It's all been said in the other five star reviews. Dr.Clark, Peet, Sponberg and staff are all I could have hoped for in medical practitioners. They have been my eye physicians for several years now and have always provided the absolute best care, and I believe, best advice and treatment during every visit and for every issue. If you are looking for eye doctors whose medical knowledge is encyclopedic and cutting edge, treat the whole person, and take the time to be caring edge even while maintaing a very efficient office, then these are the eye doctors to consider visiting." Elizabeth Z. Doylestown, Pa. Very grateful!!
by

Pat M.

on
First review of a physician, ever...Couldn't hold back- not this time. Saw Dr Clark for second opinion as my double vision was getting worse. Not happy with dissmissive tone from previous eye doctor. Dr Clark sent me immediately to the ER, they diagnoded an Anuerysm. Jefferson Hospital was awesome as I was a time bomb, apparently. Great doctors! Pat M. Grateful patient Abington,, Pa.
by

Jacob G.

on
It was my first visit to Hatboro office and I felt very welcomed the minute I entered the office. The whole stuff and Dr. Clark are fantastic, all my questions were answered without ever feeling rushed and now I am very confident about my decision to go ahead with eye procedure. Sincerly, Jacob G. Doylestowm
by

Mike mcintyre

on
"Dr. Clark is hands down the best doctor that has ever treated any of my many ailments. Not only is he the most friendly physician I have ever had the pleasure to meet, but the most confident and ethical. I was a complicated case and he took the time to review my previous care and led me to complete recovery. I recommend him to everyone that has issues with their eyes. He's the reason I can see as well as I do now. " Sincerely, Mike Bailey
by

Betsy P.

on
His bedside manner is excellent. He is very compassionate, and takes the time to talk to you and treats you as if you were family. Best doctor I have had... Keep up the good work. Betsy P. Ambler,Pa.
by

Carolina Albiston

on
I was taken back right at the app't time; A number of tests were done - the testing is very high tech and they test for a variety of eye conditions (which I appreciate since I have a chronic eye issue); After this was all done - I was seen by Dr.Clark (actually he was waiting for me and reviewing my chart...first time ever with a doctor). Zero wait time...why I write a review. He and the entire staff are excellent and very thorough. I am in awe! The doctor actually cared about me as a patient...1st time I ever experienced this.
by

Frida Sokolsky

on
I have been a patient of Dr. Clark for over 10 years. I would recommend him to everyone. and do. He is not only brilliant, but possesses a phenomenal bedside manner. He genuinely cares about me as a patient and patiently answers all questions. He has also returned phone calls at all hours of the day, evenings, weekends. Because he takes time to answer questions, he does not always run on time - but his expertise is worth waiting for.
by

Stefanie Landry

on
For many years I have been suffering from major eye pain. many ignored and igmored me.. Finally saw Dr. Clark. It was an eyelash srcatching my cormea, After 10 years, completely relief in 24 hrs. What can I say?
by

Jacob S.

on
I was recenttly admitted to Abington Hoepital for vision problems. Examined by many doctors who came in and out without knowing who they were... couldn't get out of the room fast enough. Thankfully, Dr Clark arrived and diagnosed an aneurysm(?). He aparrently saved my life. Very kind, caring, attentive.
by

Tery J.

on
I was admitted to Abington Hospital for blurry vision. No physiciam kwew what the heck was the issue until Dr Francis Clark got called in. Dr Clark was only physician who engaged in conversation, listened, and trully cared. Diagnosed Temporal Arteritis and essentially vision was saved from blindness. A previous Ophthalmologist totally missed the diagnosis . Abington Hospital needs to listening to the patients. Tery J. Doylestown, Pa.
by

Kathy S.

on
Dr Clark showed much kindness during a recent illness at Abington Hospital. All the doctors popped in, never talked nor explained things, as if they were rushing to get out as quickly as possible. He was the only one who actually stopped, seemed to care. He would talk to me, look at me, listen to me, sit relaxed and spend time talking to me. A true gem! Kathy S.
by

Kevin Q.

on
I recently saw this doctor for a 3rd opinion. I had seen 2 other eye doctors in the Phila. suburbs who did not know what the problem was with my eyes. I have been slowly losing vision for several months. Dr. Clark was friendly, patient and explained my condition to me. I was so surprised to meet a doctor who did not rush me out of the office, answered all my questions, and treated me like I was the only patient in the office, which was very busy. Not only did he know my disease, he was able to treat me after ordering the right tests. Highly recommend seeing this doctor! Kevin Q. Doylestown, Pa.
by

Vince R.

on
I know I picked the right surgeon for cataract surgery when the entire staff at the surgery center spoke so glowingly regarding Dr.Clark-- The front staff, nurses, anesthsiologist. It appears they all see him and send family to him. This is very reassuring...and I am now equally happy with his care and skills! Vince R.
by

Patricia D.

on
Dr Francis Clark is in the right profession as he trully does deeply care about his patients welfare above all else. He is extremely knowledgeable and gives his patients total confidence. Explanations are thorough and never rushed. When you are in the exam chair he makes you feel like you are his only concern, and his actions support that feeling. Dr Clark is genually happy to see you, he is seen as a friend. I trust everything he says, because he has proven it with his actions and explanations for 25 years. Patricia D.
by

Kathy T.

on
THANK YOU FOR SAVING MY HUSBAND'S LIFE! You probably don't remember the day you examined me and noticed my husband sitting in the corner chair. You saw he had a drooping eyelid, and examined him even though he wasm't the patient. You immediately sent us to the emergency room, and he was having a stroke. The nerosurgeon told us his carotid artery was TEARING (disecting) away. Thank you for your compassion and insistence we go to the emergency room! Kathy T. Skippack
by

FK. Doylestown

on
The exam-experience with Dr.Clark & his staff is what I was looking for..eXtremely knowledgeable & Exceptionally Professional, after years of suffering. I highly recommend Dr Clark. The care that I received is second to none. I am very fortunate to have this highly skilled eye surgeon along with his staff care for me. Within minutes of our initial meeting that I knew I was in very capable hands. Thank you Dr Clark and your staff for your excellent compassionate care. Best wishes, FK. Doylestown Pa.
by

Daman Dewald

on
A uniquely professional and caring ophthalmology practice. Dr. Francis Clark is an outstanding eye doctor and surgeon. I am ecstatic both the cataract surgery and eyelid surgery performed in last two years. The care provided by the other staff members was always top notch...Drs Beach, Barough, Sponberg. The office staff makes a visit to any of their offices a great experience.
by

Ralph K

on
Dr. Clark performed the new laser cataract surgery on both of my eyes. The vision was quite terrible, and my expectation was that I would have less needs for my glasses as I have worn glasses since the age of 5. The end result is that the vision became perfect in both eyes, even for reading. I never felt pain and don't have any memory of the surgeries . Dr Clark is professional, totally competent, and cares first and foremost about the patient and the desire to get a perfect result. I highly recommend him. Ralph K. Blue Bell, Pa.
by

Tom Kedford

on
Dr Clark is the first doctor that cared enough to call after surgery to ask how I was doing. I am lucky to have Dr.Clark, and am very appreciative of the care and treatment from him and his entire staff. Tom K.
by

Kiernan Redondo

on
The greeting lady was courteous from the moment of confirming the appointment and the actual visit. The medical staff is excellent. Everybody I encountered was professional, dedicated , and kind.
by

Mary T.

on
I am completely galvinized with reviews of Dr Clark. All I know is my husband, Fred T. basicaly passed away on a daily walk in Wissahickon Trails. Out of thin air , in chaos, a runner materialized who performened CPR it seams forever, until an ambulance appeared. My spouse survived, I am told by the heroic expertise of DR Clark. I was never able to thank him. God bless!!!!!
by

Casper Eury

on
Dr Clark is the complete professional in every aspect. His cataeract surgery has made a huge difference in my life now that I dont have to fiddle with glasses for anything as he corrected the reading vision also. Word of mouth research brought us to Dr Clark. I saw two other surgeons before him but chose Dr Clark for which I will be eternally grateful.
by

Hemby Maye

on
Excellent experience with both treatment and surgery with Dr. Clark. It is quite reasurring to leave a Doctor's office feeling comfortable and assured of his expertise in the delivery of eye care. Dr Clark exudes both confidence and compassion. I have the highest respect for this ethical man!
by

Pritt Laguna

on
As a new patient, I was impressed that Dr Clark found the causes of my eye irritation that has been going on for over 5 years. His attention to detail, professional manner, and passion was refreshing. His entire staff was equally caring.
by

Hendon Muldowney

on
Dr Clarke is an excellent diagnostician who treats patients as the individuals and will give you all the time in the world! Technical staff and nurses are excellent and compassionate; front office can be curt-- no big deal. Dr. Clarke is the best, a miracle worker. I don't mind the waiting because his exprtise is worth it. I also understand that when I am waiting it is because he is generous with his time seeing those in need. Alwys squeezes me in as an emergency.
by

Jose P

on
El Dr. Clark es un regalo de Dios . Desempleado , ciegos por cataratas , incapaces de conducir , me hizo muy deprimida y sola. Él arregló la cirugía de cataratas , la donación de sus servicios. Con la visión , tuve la oportunidad de reanudar la vida. gracias. José P.
by

Lorean Macrae

on
Dr. Clark is an unique , asounding doctor . I am a very complex, unusual case . He spent much time necessary to make things clear until i was sure of what was going on . Dr. Clark makes you feel confident and comfortable that your care, and ultimate results are his number one, and only priority . I highly recommend Dr Clark to all who need cataract surgery . He has operated succesfully on both eyes with excellent results .
by

Geywood Govea

on
Recently, Lasik Surgery was performed by Dr Clark-- and I am ecstatic! As a physician, knowing how important vision is, I am very careful who I select for eye care. I have to have full confidence in his/her abilities and trust his/her work. Dr. Clark has many years of excellent results, and his magnificient standing in the community precedes him. He is trusted to provide excellent care and flawless results...and he exceeded high expectations! My LASIK surgery was flawless-- a walk in the park. He gently and confidently walked me through the surgery step by step, and the result was impeccable. Vision is 20/15 next day, never had pain, and have no regrets. Dr. Clark truly performed a miracle, and I would gladly refer family and patients to him for all eye care, particularly for any eye surgery!
by

Katrice Sulloway

on
Was given Dr. Clark's name from my primary family doctor who happens to also be his eye doctor. The encounter with Clark exceeded all expectations --- kind, engaging, intellegent, cutting edge state of the art . It is quite rare anymore to find a doctor who will take the extra time to examine you, explain things, and make sure there is complete understanding in a professional, unrushed manner. I cannot thank him enough except to recommend him to family and friends--- and thank the family doctor for the referal.
by

Maria S Taylor

on
Thinking back to the last 20 years with eye problems, Happy and grateful to have Dr Clark always there for me. First,there was Lasik surgery, then cataract surgery on both eyes, then eyelid surgery for drooping eyelids. His care has always been professional, caring, and perfect. A better doctor can not be found anywhere!
by

John I

on
this review is a long time overdue . for the last 5 years dr clark has been caring for my housebound wife who is only sees out of one eye from a brain tumor . the specialist at wills eye told us she required careful followup on her only eye as she does not close her eye completely and is at serious risk -- the only eye doctor who would visit her at home is dr clark which he has done for the last 5 years -- he is not even her primary eye doctor ; was referred by my priest . she still sees out of her only eye , i am told by other doctors only because of the care by dr clark-- intersetingly , he has never charged us for his visits . he's unique compassionate doctor
by

Neil R

on
Grateful for Dr Clark who found out I was having a stroke on an eye exam. Was missed by several other doctors as I was having symptoms and problems for several years.
by

Julia Cooperman

on
I've been a patient of Dr.Clark for 20 years now - and can't say enough great things about the man and the care received over the last 20 years. Always felt secure that I was getting the most state of the art care possible with him - and Dr. Clark always takes the time to listen. True definition of a professional - and very engaging to talk to.
by

Horace Salazar

on
Forever greateful to see Dr Clark for a second opinion for cataract surgery . I was told by previous opthalmologist that cataract surgery was needed immediately . Wait there mr. eye doctor . When is cataract such an emergency . Several mentioned Clark . After a very detailed , encompensing, lenghthy exam , he not only told me the cataracts didn't need to be sucked out of my eye , he found a melanoma in the back of my eye . This doctor not only saved my eye , but saved my life!
by

Joseph Peters

on
I traveled a great distance to have cataract surgery with Dr Francis Clark. I would go no where else if you want the most advanced cataract surgery anywhere. Great staff and Doctors!
by

Vanek Gabriele

on
Family , friends and neighbors would support an outstanding review for dr clark . all have been seeking his care for over 20 years . staff , doctors and care is superior to my other experiences in doctor's offices today . not a more dedicated , modest meticulous physician who is always ethical , unasuming no ego .. sometimes the wait is longer than I would like , offset by the time dr clark spends with you .
by

James Hays

on
Having seeing Dr Clark for 20 years, I have had Lasik Surgery, Catararct Surgery, Glaucome Surgery, and recently Eyelid Surgery. People tell me I look 20 years younger! He is a true master with a compassionate bedside manner. His staff is professional. At times, wait is awhile, as he spends quality time with you; never rushed.
by

Albert Philander

on
Having a very painful eye , I was seen by dr. Clark late in evening , 2am . No call back from previous longstanding optomologist for20 years . Though not being my optomologist , seen immediately by him , dr Clark diagnosed shingles in eye . Feeling great within 24 hours . His compassion and confident expertise is not seen in medicine today . Remarkable physician!
by

Kevin M.

on
Outstanding service and care with an exceptional eye surgeon, Dr. Clark
by

Nancy Lawrence

on
Surgery by femto laser catarct surgery in Blue Bell Surgery performed Dr Clark was the easiest surgery of this 80 year old patient, who has dealt with many doctors and hospitals. Care from nurses was exceptional and vision was 20/20 on first day. Dr Clark deserves and earns his excellent recomendations.
by

Stephanie Martin

on
Really pleased with this doctor. Office is very clean, exam is quick and accurate. He makes things as pleasant as possible and is really knowledgeable.
by

Janice Rector

on
The care I received by Dr Clark was totally awesome. I have had many eye exams in my life. His confidence, skills, and thoroughness was far superior to other exams.This doctor is the true meaning of a caring physician. All of the people in this well organized office were upbeat and caring.
by

Linda

on
I have been a patient of Dr. Clarks for years. He answers all my questions and takes his time with me. I really like that.
by

Shelia Fiala

on
I am extermely happy to have heard of Dr. Clark for my cataract surgery. I had a bad result with my first eye with another eye surgeon. After doing a lot of homework I was informed of Dr Francis Clark. I am happy I travelled a great distance to see him. The femto laser cataract surgery he performed at Blue Bell was the most incredible ecperience of my life. Besides the great outcome, the care I received by Dr Clark and his staff was unmatched in my experience with other doctors.
by

Ed Mack

on
I recommend Dr Clarke to everyone I know. The care by him and his staff is the best I have ever experienced. He personally has called me back in the late evenings and on weekends.
by

Molly M.

on
knowledgeable, compassionate, excellent surgeon, excellent bedside manner, cutting edge in all dealings
by

A.L.D.

on
A very kind doctor, hard to find a doctor with such patience. Took good care of me and my family. Very grateful for his care.
by

Carolyn Randolph

on
Dr Clark is the best for eye care of any kind. He's very patient and explains everything. However one of the assistants in his office by the name of Sue needs a little training in patient care and patience. She can be a little rude.
by

A.L.D.

on
I have been a patient of Dr. Clark since 1992. His knowledge of my eye issues is always spot on and I feel confident in his abilities every time I see him. He has a kind bedside manner and I realize he really cares about his patients. Will continue to see him and recommend him.
by

James

on
I will be forever grateful to Dr. Clark as he saved my life twice. He is an extremely gifted doctor whose care is unequaled. His followup and calls late in the evening and on weekends were very appreciated.
by

John M.

on
I was referred to Dr. Clark from my neighbors in New York who have had laser cataract surgery with the new femto laser. This has been the most rewarding experience of my life as I saw great on my drive from the surgery. This doctor is incredibly humble as he is performing miracles!
by

Dr Clark patient

on
I cannot count the number of friends and relatives I have that have seen Dr. Clark. They all say the same thing, that he is so knowledgeable and has the best bedside manner. All have had great results, whether for a checkup, LASIK, or cataracts. I will always refer people to him.
by

Rebecca

on
Went to Dr Clark for second opinion for cataract surgery that I was told I needed rather urgently by another . Dr. Clark confirmed my thoughts in that surgery was not necessary. Great staff, very thorough doctor with caring and ethical bedside manner.
by

Kamil Wazowski

on
Very good doctor -- kind, reassuring, and knowledgeable. Has all the latest equipment and will make sure you're given the best care.
by

Michelle Tobin

on
I have been seeing Dr. Clark for many years and am very satisfied with his knowledge and professionalism.
by

Tom Q.

on
After a bad result with another eye surgeon, I was recommended to Dr. Clark for my second surgery. The thoroughness of his exam gave me a perfect result with my cataract surgery. The man is totally professional with an impecable bedside manner. He is respected by all the nurses at the Wills Eye Surgery Center.
by

Mike

on
After seeing countless doctors for my blurred vision, I was recommended to Dr. Clark. He did an amazing exam, more detailed than any before, and found a tumor pressing on my nerve. He prevented me from going blind. I recommend him to everyone.
Office Locations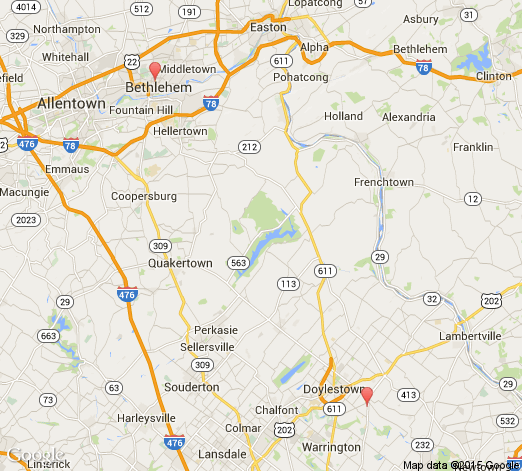 Request a Consultation
We hate spam too! Your information will only be shared with this practice to schedule a consultation.
About Francis Clark, MD
Francis J. Clark, MD, is a board certified ophthalmologist who specializes in no-stitch cataract surgery, laser cataract surgery, LASIK, and glaucoma management and laser surgery. As a leading member of the Ophthalmology Physicians & Surgeons, PC, team, he is committed to providing Furlong, Pennsylvania patients with quality eye care and effective treatment options. Dr Clark, alongside his colleagues, offers:


Advanced technology: Dr. Clark is skilled in the use of the latest eye care technology, including the femtosecond laser. The femtosecond laser is used to assist with cataract and custom LASIK surgery.


A partnership with Wills Eye Surgical Centers: Dr. Clark and Ophthalmology Physicians & Surgeons, PC, are partnered with Wills Eye Surgical Centers, which is the largest eye hospital in the United States. This partnership reflects the practice's commitment to providing an exceptional standard of patient care.


Complete care: While Dr Clark is particularly skilled in cataract surgery, LASIK, and glaucoma management, the practice offers comprehensive eye care services, including routine vision tests.


Dr. Clark's Education and Training
Dr. Clark was awarded a Presidential Scholarship to attend St. Joseph's University, where he graduated Magna Cum Laude. He went on to earn his medical degree from Jefferson Medical College, where he gained recognition from Wills Eye Hospital, receiving high honors in ophthalmology from the hospital. Dr. Clark completed training in ophthalmology at Vanderbilt University Medical Center. He later returned to Pennsylvania to provide eye care services in a private practice setting. Today, Dr. Clark is a member of several prestigious organizations, including the American Academy of Ophthalmology and American Society of Cataract & Refractive Surgeons.
To schedule a consultation with Dr. Clark, contact Ophthalmology Physicians & Surgeons, PC, today.
Francis J Clark, M.D.
Board Certifications
American Board of Ophthalmology
Conditions Treated
Astigmatism
Cataract
Procedures
Glaucoma Surgery
Cataract Surgery
Send a Message
DocShop
Secure Messaging
We hate spam too!
Your information will only be shared with this practice to privately answer your questions.