DocShop Verified & Preferred
---
Patient Reviews
by

Julia

on
Dr. Jacobs in an excellent doctor and has an extensive knowledge in his field. From the very first moment we have met him we felt that we were taken care of. The staff is very attentive and caring. They were always on track with all the procedures we needed to do, reminding us and following through when needed. Dr. Jacobs is not only an expert his area but a passionate, caring and responsible person who aims for success. He has a very thorough approach when analyzing your case and that pays off. I highly recommend Dr. Jacobs to all the people who will benefit from his services! He is really the best!
by

Practice Manager

on
I saw Dr Jacobs in Buffalo Grove. Dr Jacobs was professional, empathetic, knowledgeable and has over 35 years of medical experience. He is also accomodating--has "Saturday appointments and will provide an Email to send any questions to (which I find very convenient). Seeing him has taken so much worry off my shoulders. He's willing to be medically conservative and will do thorough testing before discussing an in depth treatment plan. He won't automatically jump to morre invasive procedures/treatments unless necessary. I was extremely pleased by my experience so far. I will be going through testing this week. I know that I'm truly in great hands." - RateMds.com
by

Practice Manager

on
"I was/am a patient of Dr. Jacobs. He helped my husband and I conceive healthy, thriving twins (a son and daughter) via IVF with an egg donor. Dr. Jacobs was by far the kindest, most honest, professional person that I met in my entire fertility journey - which seemed long at about 18 months, but in reality, is rather short compared to what some couples go through. I would highly recommend him if you are looking for a kind person, who shows genuine empathy and caring for you and is very honest about your options. He is of course an excellent physician - as evidenced by our wonderful son and daughter. I would add that he has an excellent rapport with patients - he has a calming presence that is so reassuring when you're going through fertility treatment. If this and excellent medical care are important to you, you should choose Dr. Jacobs as your physician. - anonymous, Yelp.com
by

Practice Manager

on
"Dr. Jacobs is an excellent doctor and is highly experienced in his field. Dr. Jacobs is empathetic, understanding and caring. I felt he was honest throughout the entire process and nothing came as surprise. The staff at his office were helpful, in particular his 2 nurses Helen and Barbara. They were able to answer my questions in a timely manner. I can say I have gone to their other locations but this location by far was the most consistent with their service. I would recommend Dr. Jacobs to any of my family and friends. It was wonderful to meet a Doctor who is truly passionate about their field and really wanting to help people. You don't see that often enough in the medical field." by M.B, Yelp.com
Office Locations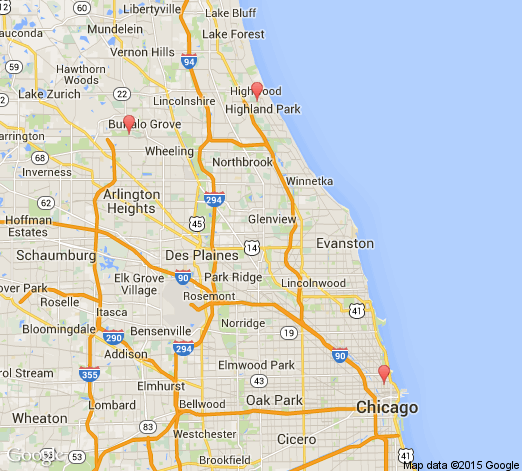 Request a Consultation
We hate spam too! Your information will only be shared with this practice to schedule a consultation.
About Laurence A. Jacobs, MD
Dr. Laurence A. Jacobs is a reproductive endocrinologist with more than 30 years of experience. At his practice in Chicago, he sees patients who suffer from infertility for various reasons. Whether a patient's poor overall health is affecting his or her fertility, or a specific reproductive condition makes it more difficult to conceive, Dr. Jacobs will develop a customized treatment plan that is designed to maximize the patient's chances of conceiving a child.
Patients of Dr. Jacobs can rely on his:


Reputation for excellence: Dr. Jacobs has gained recognition from several trusted Castle Connelly publications, including America's Top Doctors and Chicago's Top Doctors. Dr. Jacobs is the only doctor in the Chicago area to earn a spot on these lists for the last 15 years straight.


Professional experience: Dr. Jacobs' many years of experience in identifying and treating the various causes of infertility allow him to provide an exceptional level of care to his patients.


Comprehensive treatment plans: A patient's health can play a significant role in fertility. Dr. Jacobs' fertility treatment plans may include improvements to diet and fitness, along with treatments such as IUI or IVF.


Dr. Jacobs' Education and Training
Dr. Jacobs graduated from Northwestern University with a Bachelor of Science. He went on to earn his medical degree from Northwestern University School of Medicine, followed by a residency in obstetrics and gynecology. Dr. Jacobs also completed a fellowship in reproductive endocrinology and infertility at the Mayo Clinic. Today, Dr. Jacobs practices in Chicago, and he is a member of several organizations, including the American College of Obstetrics & Gynecology and American Society for Reproductive Medicine.
To schedule an appointment with Dr. Jacobs, contact his practice today.
Laurence A. Jacobs, MD
An Interview with Dr. Jacobs
Procedures
Cryopreservation
Fertility Diagnosis
Fertility Drugs
Fertility Preservation
Fertility Surgery
Fertilty Treatment
In Vitro Fertilization
Intrauterine Insemination
Send a Message
DocShop
Secure Messaging
We hate spam too!
Your information will only be shared with this practice to privately answer your questions.