DocShop Verified & Preferred
---
Patient Reviews
by

sheriwrz@yahoo.com

on
My daughter incurred an injury when she was ten years old that left her front teeth damaged and grey. Over the next eight years, Dr. Wilderman and his staff worked expertly to find amazing solutions in conguntion with the changes in her dental circumstances. Now at nineteen she proudly displays her movie star teeth we dared to dream was possible. Thank you Artistic Expressions for giving us all a reason to smile!!!!
by

Marie Enright

on
I cannot say enough about the wonderful experience we had with Dr. Wilderman and his staff. My teenage daughter had ground her teeth to the point where her dental health and her confidence were in jeopardy. He outlined a plan to give her the smile she wanted, and spent an inordinate amount of time ensuring that the color, shape, and overall appearance of her veneers would be perfect for her. She is overjoyed at her new smile, and flashes it constantly. Her confidence is restored and she is extremely happy with the results! Thank you to all of you for all of your hard work and dedication to making my daughter proud of her smile!
by

Terra

on
This review would be 6 pages long if I were to write every great thing out in detail so to make it easy for all of you reading here it is in bullet points: * Professionalism: 5 star treatment. Dr. W and his staff always make you feel like you're the most important patient to them mainly because you are! Every patient is treated with total respect. * Timeliness: Appointments are scheduled with respect for you and other patients. They are rarely a minute behind-I've never had to wait. * Staff: Dr. W, Jeanette,Kathy, Phyllis and Kathy are all very professional yet they feel like family. They are fun, but perfectionists and ensure you leave happy. * Quality: For caps I can say they use the best labs - and won't finish until you are satisfied. I had to send my first set back & there was no problem in doing so. They know that their reputation is based upon their work so make sure to do everything perfectly. If you are not happy they are not happy end of story. They are there for you as your doctor, friend, neighbor and professional worker. I've lived in numerous cities and can say this office compared to so many is #1. I highly recommend Dr. Wilderman & every one of his staff. If you have any doubts take my word for it this office should be your choice. You'll be so happy you made Dr. W your dentist!
by

Danielle Piazza

on
Bruce Wilderman and his team of cosmetic dentists gave me the most beautiful smile I could have ever asked for. As soon as my adult teeth came in my pediatric dentist knew there was something different. I suffered from one of the worst cases of fluorosis (a chronic condition caused by excessive intake of fluorine compounds, marked by mottling of the teeth) she, and numerous other dentists had seen. I was told when I was very young that veneers were going to be the only way to fix my speckled teeth. As I grew older, I became more and more self conscious of the way my teeth looked, how they were different. The dark spots were extremely dark, which made the white spots appear even more out of place. I went to Dr. Wilderman for a mere consultation in December, but quickly realized he was going to be the cosmetic dentist for me. He recommended 10 veneers for my top teeth, and bleach whitening for my bottom teeth. This he said would complete my "smile makeover." Four months later, and after a few ups and downs, my smile looks FANTASTIC. No longer do I have spots on my teeth, but a uniform white smile. I know my case was special, and it meant a lot to me that Dr. Wilderman walked me through every step of the process. The step by step information I was given, from the temporary teeth to the real veneers, I always felt like I was part of the process (I even learned a little too). The staff is friendly and made me feel at ease, even when having my first experience with Novocain. The finished product is flawless. The reaction I got from my parents, after seeing their child for 13+ years with discolored teeth, to a brilliant smile was priceless – they were almost in tears. If you are ever in need of veneers, I highly recommend Artistic Expressions Dentistry. Dr. Wilderman, his staff, his knowledge, and the results are incomparable. I am extremely satisfied with my smile – it is now my forever smile.
by

Liz Robinson

on
Finally, after over 15 years of dental work, Dr. Wilderman is finishing what others merely started... 'Food pockets' filled/teeth properly repaired, each procedure performed so gently I could fall asleep in the chair... Next is a crown: 3rd Crown's a Charm!- and once the final procedure is complete there will only be regular cleanings in my dental future... Sadly enough, all I'll have to 'do' in the dental arena after my veneers are in place will be throwing out references to his outstanding office!
by

Beth McPeak

on
When I finally decided to have my top teeth fixed, I researched every dentist in the Montgomery and Bucks County area. Dr. Wilderman has received many prestigious awards, and his credentials are impressive. I knew from my consultation that I didn't need to look any further. He explained the total process for my six teeth that were to be cosmetically treated with veneers or porcelain crowns. I never doubted that my new teeth would look beautiful, and they do. I can't smile enough these days. In addition to being a remarkable dental artist, Dr. Wilderman is a perfectionist. He makes sure that the fit is physically appropriate and that your speech is natural. I am so happy with the results. I only wish I had done it sooner. Beth
by

Bruce Davidson

on
Dr Wilderman has been my dentist for over 20 years. He is the best dentist I have ever known: Always looking for ways to improve his skills and services… always helpful, personable and does absolutely outstanding work! Office staff couldn't be better!
by

Rosemarie Kamal

on
This is a friendly, pleasant, and well-run office. I had extensive cosmetic work done on my front teeth and the results have exceeded my expectations. I feel like I now have the best possible version of my own teeth, very natural-looking and attractive. Rosemarie K. July 10, 2015
by

Melissa McDonagh

on
After many years of not liking my smile because of cyellow and crooked front teeth I finally came to DR Wilderman and his staff for veneers. All I can say is I should have done it years ago! My teeth are beautiful and so natural looking. I have a new found confidence and am no longer hesitant to smile widely! Thank You Dr Wilderman and Staff! Melissa M.
by

Kevin

on
Circumstances necessitated a change in my afternoon appointment for a cleaning. Dr Wilderman and his entire staff worked to move me to a morning slot.... most appreciated. Great service!
by

Ashley Cronrath

on
Dr. Wilderman is the BEST! Great personality and great at what he does. Patients needs come first 100% of the time. Even with emergency visits he is top notch with seeing you promptly! His cosmetic work is flawless. His procedures for getting to the final end point are unlike anyone else. No cutting corners to get the job done. Worth every penny!
by

Fran Schuler

on
Dr Wilderman and his staff are so warm and friendly. They make you feel right at home. All the steps in every procedure is explained in detail so you feel comfortable with what is being done. I have to say Dr Wilderman could be called an artist is many ways but what he can do with a new smile is simply amazing. I put off having veneers for way to many years and now all I can do is smile. Thanks a million Dr. Wilderman
by

New Patient

on
Professional work, charismatic personality, and a wonderful staff. I was blown away by this dentist. Why couldn't I have found him 10 years ago? Thank you, Dr. Wilderman. P.S. you were right about the coffee and my teeth are STILL white. - GM
Office Locations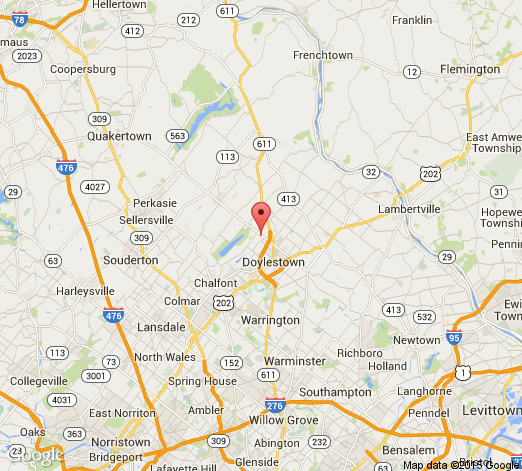 About Bruce J. Wilderman DDS
Led by Philadelphia dentist Bruce Wilderman, DDS, Artistic Expressions Dentistry offers cosmetic dentistry services like porcelain veneers, teeth whitening, Invisalign, dental implants, & more! At Artistic Expressions Dentistry, we hold true to our promise to create masterpiece smiles. Dr. Bruce Wilderman uses the latest in cosmetic and restorative dentistry techniques to give you the smile you've always wanted. Our exceptional staff will give you the personal attention you need to feel comfortable with your care. We know you deserve the best treatment and, from the first moment you enter our Doylestown cosmetic dentistry office, we'll be sure you're taken care of.
Dr. Wilderman on FOX TV
Dr. Wilderman and His Staff
Dr. Wilderman Accepting a Top Dentists Award
Dr. Wilderman's Office
Dr. Wilderman's Office
Dr. Bruce J. Wilderman
Artistic Expressions Dentistry
Affiliatied Organizations
Specialties
Cosmetic Dentistry
Family Dentistry
General Dentistry
Laser Dentistry
Procedures
Dental Bonding
Dental Bridges
Dental Cleaning
Dental Exams
Dental Restorations
Dental Veneers
Full Mouth Reconstruction
Invisalign
Porcelain Crowns
Porcelain Veneers
Scaling and Root Planing
Smile Makeover
Teeth Whitening
Tooth Colored Fillings